'Being royal is no privilege': Claire Foy admits she has a new respect for the Queen and Prince Philip after starring in The Crown about the early days of their marriage
calendar_today July 06th, 2016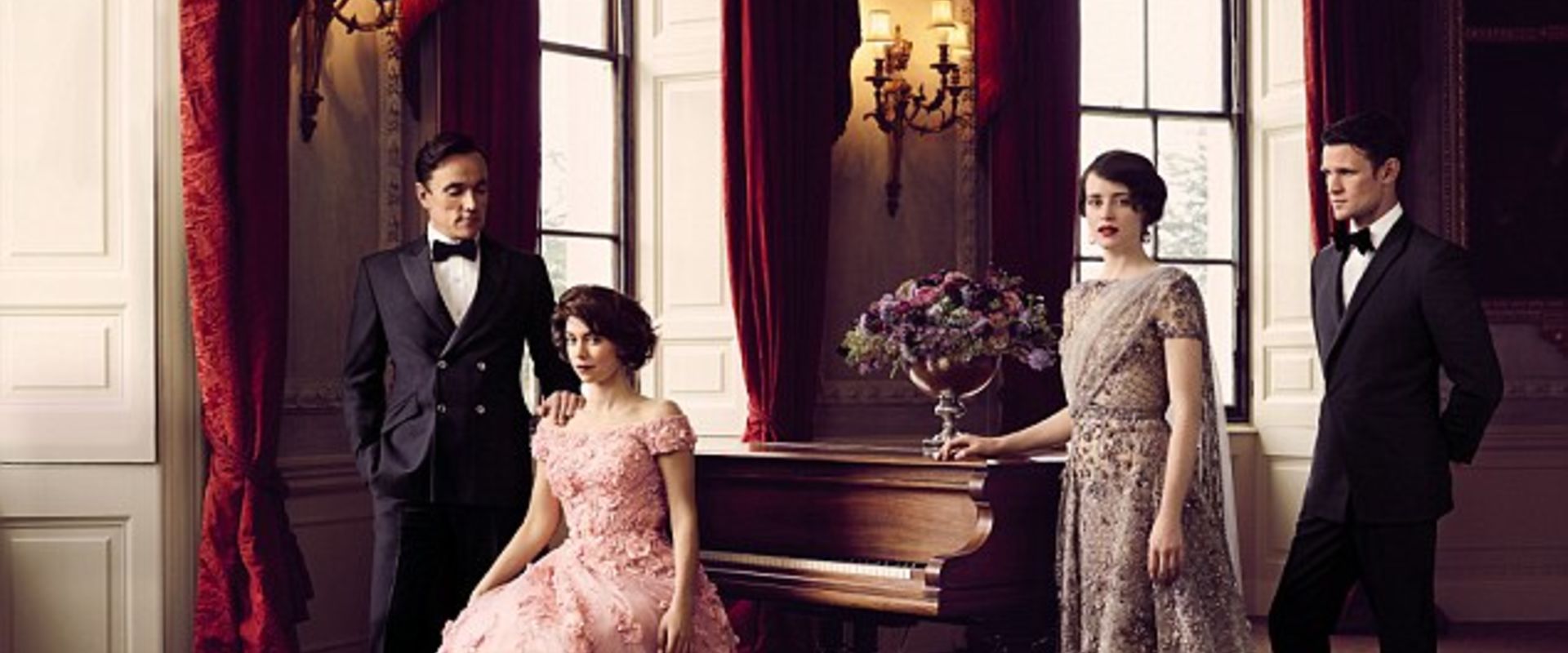 Having starred in Wolf Hall, actress Claire Foy is more than used to time travelling for her roles.
The actress' latest incarnation is likely to be her most challenging role yet – taking on the part of a youthful Queen Elizabeth during the early decades of her marriage to Prince Philip.
Dr Who actor Matt Smith plays the Duke of Edinburgh in Peter Morgan's much anticipated new series The Crown, which documents the couple's relationship from November 1947 to the Suez Crisis of 1956.
New understanding of the British royals: Matt Smith and Claire Foy star in an all new Netflix series The Crown portraying the Queen's early years ruling on the throne
Writer Morgan, of course, earned plaudits for The Queen, starring Helen Mirren, and this time teams up with The Audience's Stephen Daldry for what has been described as a 'meticulously researched' and sumptuous series.
Vogue magazine has printed a series of exclusive pictures with the cast, snapped by photographer du jour Jason Bell, who also photographed Prince George's christening.
The ten-part drama doesn't shy away from the grim realities of life, however: including showing a scene in which the Queen's late father, King George VI, coughs up blood into his toilet bowl.
He died from lung cancer in 1952, propelling his eldest daughter, Princess Elizabeth, onto the throne in her twenties.
Written by Peter Morgan who received great credentials for his masterpiece The Queen, the series will take a look at the grittier side of being a royal. Pictured: Vanessa Kirby as Princess Margaret
The series also shows one of his daughter's (it is not yet clear which) seeing his body embalmed, which might cause some upset among viewers.
Scenes were filmed both at Elstree Studios and at some of the magnificent stately homes in the country: Hatfield House, Lancaster House, Loseley Park, Wrotham Park and Englefield.
The beautiful period costumes are the handiwork of Michele Clapton, who also designs the costumes for Game of Thrones.
The Queen is sensitively portrayed by Wolf Hall star Claire Foy, who is said to have captured the transition from carefree young princess, to mother and, then Queen, beautifully.
In an interview to accompany the Vogue photoshoot, Eileen Atkins – who plays her grandmother, Queen Mary – recalls how before she went to a reception at Buckingham Palace, where she met the Queen herself, she had a 'take-it-or-leave-it' approach to the monarchy.
But she recalls: 'Something hit me as I walked through that door. I was suddenly aware that being royal is no privilege. They are constantly on, they cannot ever slip off their shoes in public. Celebrities choose fame. Royals have it thrust on them.'
Matt Smith has previously said of his role in the drama that he 'grew to love' the Royal Family a lot more during filming.
He said: 'I think the writing firstly is respectful but it's not overly reverential. It's honest about the human traits of these people. We as actors interpret that as honestly and as bravely as we can.
'We grew to love them quite a lot, in a much greater way than we ever did.
'We had a wonderful time together, and at the heart of this is this really rich love story about two soul mates [the Queen and Prince Philip] who are put under great press about her responsibility to become Queen so early and so unexpectedly.
'The Prince Philip we know now and the Prince Philip we perhaps knew then are two very different men.'
Senior royal sources have told the Mail that Buckingham Palace is very much aware of the project and while they have not actively participated in the making of it, senior aides have been kept abreast of the production.
The Crown will air on Netflix this autumn.
See the full shoot in the August issue of Vogue, on sale Thursday 7th July.